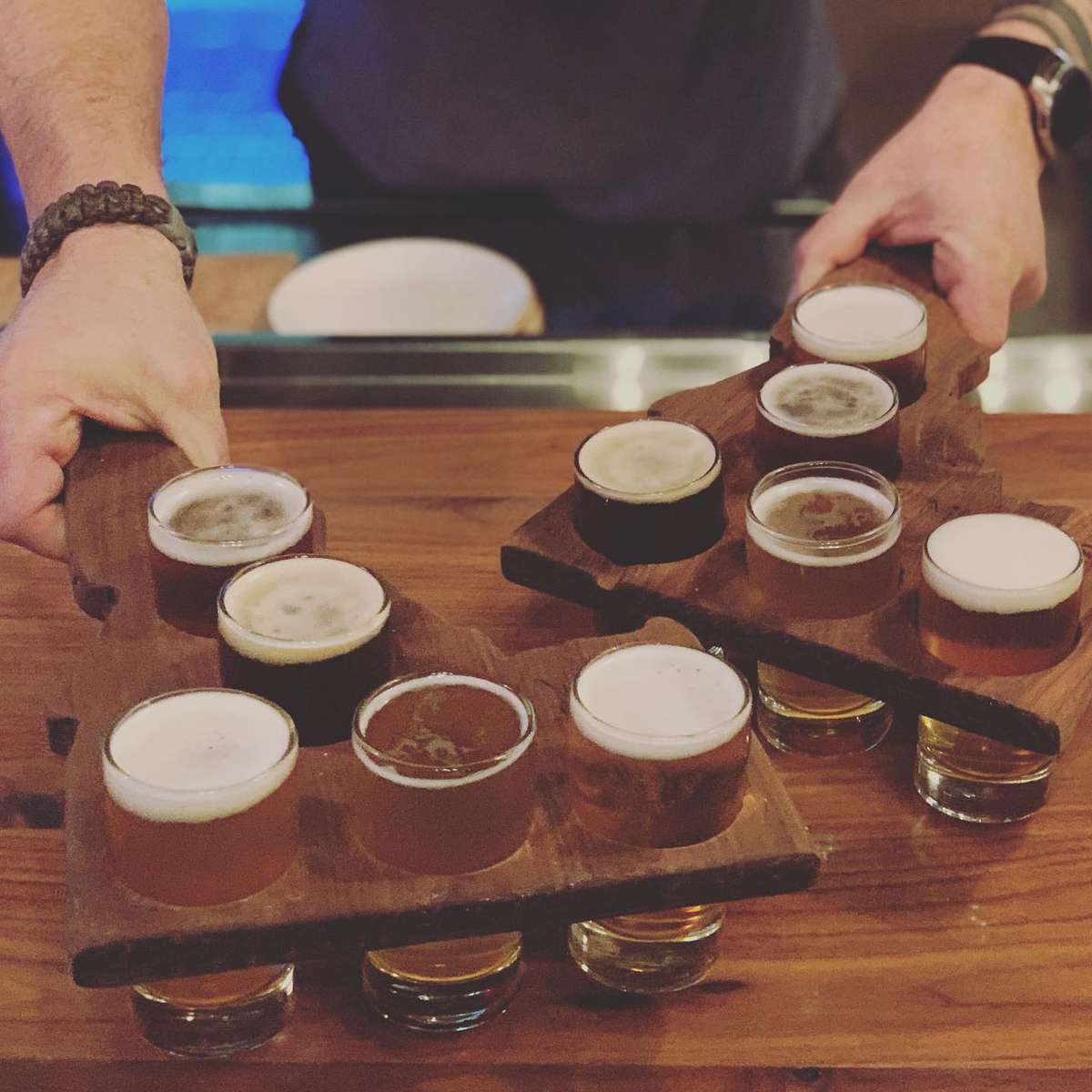 Brew Review
"Sweater Weather Autumn Ale"
Release Date September 2022
The seasons are changing and what's Fall without spices? For those of you on the never-ending quest to please your senses, Milner's Gate presents 'Sweater Weather Autumn Ale.' This ale features malts to accentuate sweet caramel while making the perfect backdrop an infusion of cinnamon, nutmeg, clove, and ginger. This beer is only available for a short while. Raise a pint to toast the end of the heat and the arrival of "sweater weather!"
"Golden Girl Blonde Ale"
American Blonde Ale
Released December 2019
Newest Batch August 2022
'Golden Girl' pours a slightly hazy, golden straw color. It's light bodied, quaffable and goes down smooth and easy. Definitely a brew where you can enjoy more than one. If you're someone who thought you'd never enjoy a true craft beer, an ice-cold 'Golden Girl' might be just the beer to change your mind.
IBUs (international bittering units) 10
ABV (alcohol by volume) 4.7%
Calories – 140/Pint
The inspiration for naming this great beer 'Golden Girl' is a great dog, Tom's golden retriever who's name is Montana. She was born in Oregon, raised in Idaho, and named Montana, though she prefers to simply be called "Mo".
"Stanley's Downtown Brown"
English Style Brown Ale
Released March 2022
The first of many with brew master Rob Harrelson this English style brown features a chocolate, almost tootsie roll aroma on the first breath. This full bodied brown offers a slight sweetness that transforms into a light roast flavor with an extremely clean finish. The name represents the visionary Stanley Milner and his efforts to help bring the Magic Valley to what is known as today. Without his efforts, life in Southern Idaho, wouldn't be quite what it is today. In a similar manner this beer represents a new chapter for us here at Milner's Gate AND for brewing in the Magic Valley. Cheers!
IBUs: 17
ABV: 6.3%
"Crooked Canyon Pale Ale"
Release Date August 2022
This new version uses only two grains, Idaho two row malted barley and medium dark crystal malt. This cleaner malt bill was hopped with Columbus for bittering and the trio of Cascade, Centennial and Amarillo for both flavor and aroma, Dry hopping was done using the same trinity of hops used for flavor and aroma. The result is a light amber brew with a citrus forward hop profile balanced by notes of spice to complement the sweetness of the malts. A low ABV makes this beer sessionable on its own or enjoyable paired with many of our food selections.
ABV: 5.0%
IBU: 49
"Banjo Shredder IPA"
Hazy IPA
Released November 2020
Newest Release September 2022
This version of Banjo Shredder is the evolution of one of the very first beers we ever tasted from our first brewmaster Quay Marshall. It's a recipe he developed and perfected with his home-brewing system, and he shared it with us during the construction phase of Milner's Gate, way before we were even open. We loved it then and we love it even more now! Quay described this brew as "hazy, juicy west-coast style IPA-meets New England IPA". The result is one of our very best IPAs yet. This version uses a malt bill designed to provide mouthfeel and crowns it with Strata, Centennial and Chinook hops. Dry hopping with Strata, Nugget and Chinook takes the aromas and flavor over the top. The result is a beer that starts as sweet fruit, transitions to citrus and ends with a pleasant hop bite. When the name "Banjo Shredder" was created, Quay told us that as he was developing this great brew, he and some beer-loving friends were listening to lots of kick-ass bluegrass music where the musicians were tearing it up on banjo. The beer captures the creativity and passion shared by brewers and musicians alike. Cheers!

ABV 6.1%
IBU 52
"One Giant Leap Witbier"
Released July 2022
"One Giant Leap"... part of a very famous quote spoken by Neil Armstrong as he stepped on the moon's surface. This witbier, reminiscent of another lunar favorite, combines Idaho two-row malted barley, malted white wheat, and flaked oats to build a solid landing pad. Hallertu and Liberty hops contribute a weightless bitterness adding just enough ballast to compliment the atmosphere coriander and sweet Valencia orange peel provide. Cleanly fermenting US-05 yeast provides the thrust necessary to complete the beer without lending unnecessary esters and flavors. Make it your mission to enjoy this easy drinking beer.
ABV 5.6%
IBU 17
"Hoppy Place" IPA
Released June 2022
Hoppy Place IPA is here to take you to your Happy Place. Four grains make up the grist of this India Pale Ale with rye malt being the star of the show and adding a distinct flavor to the malt bill. Strata and Amarillo play a supporting role to Belma hops which adds a mid-palate berry essence to the flavor profile. Two stage dry-hopping add flavors and aromas reminiscent of pineapple and strawberry. A pleasing bitterness accentuated by effervescent carbonation completes this experience. This beer is wonderful on it's own or paired with bold food selections. Let this beer take you to your Hoppy Place.
ABV 7.1%
IBU 55
"Happy Camper Lager"
Light Marzen
Released February 2020
Newest Batch May 2022
Most of us here at The Gate develop a slight case of cabin fever around mid-February, and we start to get a little bit anxious to play outside in the Magic Valley and beyond. Not that we don't love winter, but you know how it is. In this spirit, Brewmaster Quay Marshall has crafted a terrific beer definitely suitable for the season, 'Happy Camper Springtime Lager'. This unfiltered beer pours a beautiful light amber color with just a hint of toasted bread. Medium-bodied and highly quaffable, with subtle malt notes that give way to floral, spicy & herbal characteristics of the German-style hops. The refreshing after-taste lingers just long enough to leave you wanting another cold one, and definitely feeling like a very happy camper!
IBUs: 14.1
ABV: 4.7%
Calories – 155/Pint
"That's My Jam Sour"
Release Date June 2022
Milner's Gate is proud to present our first kettle sour, "That's My Jam." Early in the brewing process the wort matured in our brew kettle exposed to live active cultures from Icelandic cream-skyr. Once the brewing process was complete the young beer was infused with Italian Plum puree. With carbonation added, the final product has a dried fruit, cider and "jammy" bouquet with a flavor profile akin to red wine. Served in a Widmer goblet, we hope you enjoy this unique presentation.
ABV 7.3%
"Evil Duck ESB"
Extra Special Bitter
Released March 2022
Classic English-style amber ale. ESB stands for 'extra special bitter', but when made right, the style is actually not bitter at all. Evil Duck pours a beautiful light copper color, is rich in flavor with notes of fresh biscuit and caramel. Similar to an American-style amber ale. The name is in reference to a swan – a rare bird to find in this area much like an ESB. But unlike an ESB you shouldn't get too close to the "evil duck"
IBUs: 34
ABV: 5.8%
"Gilga-Sesh"
Session IPA
Release Date March 23, 2022
Ancient Sumeria is credited as the birthplace of beer. The beverage was celebrated in one of the oldest texts ever discovered, the Epic of Gilgamesh. Written about King Gilgamesh, who reigned in Sumeria around 2700BCE, the ancients were portrayed to drink water in daily life and even while undertaking heroic tasks. However, beer was consumed for pure enjoyment. Gilga-Sesh Session IPA lives up to Sumerian expectations! A clear and crisp session ale with plenty of hop aromas, Gilga-Sesh won't hit you with the bitterness that is often associated with the acronym "IPA". Chinook, Cascade and Cashmere hops set the stage for significant dry-hopping with Cascade and Idaho 7. The resulting brew's bouquet of citrus and tropical fruits is complemented by a very pleasing flavor profile accentuated by balanced effervescence and a quick finish. What was valid over 4,700 years ago still applies today; this highly sessionable beer is sure to bring enjoyment time and time again.
ABV 5.3%
IBU 35
"Big Bu Amber Ale"
Hybrid American Amber/English Extra Special Bitter (ESB)
Released September 2021
Big Bu in da house! This is a big, beautiful full-bodied beer, perfect for our fall release this year. A cross between an American style amber ale and an English Extra Special Bitter (ESB). Very easy-drinking, considering that it weighs in at a substantial 7.2% ABV. Big BU is a hefty, malty, estery palate-pleaser that will sneak up from behind and take you out at the knees. Brewed with English Fuggle Hops, then dry-hopped with West Coast Willamette Hops. This delicious ale is named after "Bu", our brew house dog, and the beer is as big as Bu himself.
IBUs (international bittering units) 34
Alcohol by volume 7.2%
"South Hills Pils"
Bohemian Style Pilsener
Released July 2021
Bohemian or Czech-style Pilsener originated in the westernmost and largest historical region of what is now the Czech Republic. It's a style of beer that many new craft-brewers want to learn to brew perfectly, but it's not all that easy, and you've gotta have just the right ingredients to make it work. While still crisp & clean like other Pilsener style beers, Bohemian-style Pilseners have a spicy-hop character and a nice, rich, complex maltiness. In addition, Bohemian-style Pilseners usually have a bit more malt sweetness than German-style Pilseners, which helps counter the substantial hop bitterness, making it a more balanced, well-rounded beer. Malts used: Pilsen, Two Row and Carapils. Hops: 100% Czechoslovakian Saaz Hops, think spicy & floral for these. Yeast: Imperial Yeast and Czech Pils Yeast. The real deal all the way, and a truly great pilsener!
IBUs (international bittering units) 25
Alcohol by volume 6.2%
"Ida-Hop IPA"
"Ida-Hop IPA"
Idaho IPA
Released February 2020
'Ida-Hop' is a beautifully balanced India Pale Ale made with copious amounts of highly sought after "Idaho Gem Hops" as well as small amounts of Chinook Hops, Galena Hops and Cascade Hops, which are from Oregon and Washington. The result is a complex yet extremely drinkable Idaho IPA. Crisp, refreshing, with notes of fresh citrus and a clean, satisfying finish. You don't need to be an IPA fanatic or a "hop-head" to love this beer, but if IPAs are your jam, you won't be disappointed. All of the characteristics of the style you love are definitely present in this highly accessible IPA.
IBUs (international bittering units) 41.2
ABV (alcohol by volume) 7%
"Ida-Hop 4.0"
Idaho IPA
Released April 2021
The is the fourth in our 'Ida-Hop' series of IPA's made primarily with Idaho-grown hops. This time around Quay has produced a very nicely-balanced India Pale Ale made mostly with "Idaho Gem Hops" as well as smaller amounts of Amarillo and El Dorado hops. These new hop varietals are known for citrus and tropical flavors, along with some added candy-like sweetness. Those qualities are then balanced-out with the addition of Magnum hops for the bittering. The result is a complex yet extremely drinkable Idaho IPA. Crisp, refreshing, with notes of fresh citrus, and a clean, satisfying finish. An Idaho IPA brewed to kind of take-on all of the hazy IPAs that are so prevalent today.
IBUs (international bittering units) 41.2
ABV (alcohol by volume) 7%
"Finger Of Fate IPA
West Coast Style IPA
Released February 2021
This is our biggest, fullest-bodied IPA to date, delivering a beautiful mouthful of citrus, along with dank pine flavors, and more of a 'hop-bomb' than any of our previous IPA offerings. Yet because of the solid malt backbone and Quay's mastery of the brewer's art, the finish is crisp and dry, making for an extremely drinkable brew. The mix??? Magnum, Centennial & Cascade hops in the boil, some beautiful Chinook hop-hash in the whirlpool, then
dry-hopped with more Centennial and Cascade. YeeHaww and Giddyup! IPA lovers are going to be all-in for this beautifully balanced beer. The name "Finger Of Fate" refers to a beloved feature in the Sawtooth Mountains that some of us here at Milner's have climbed over the years. Sadly, the final top pitch of "the finger" was toppled in a recent earthquake, but it is still way-worth the work to get there, and we can all remember amazing times in the mountains whenever we down a Finger Of Fate IPA.
IBU (international bittering units) 50+
ABV (alcohol by volume) 5.5%
"White-Out Double Belgian Wit"
Imperial Belgian Wheat Ale
Released December 2020
About this time every year, craft-breweries around the country start pushing their seasonal dark winter ales, but here at "The Gate" we're going another direction with the release of our "White-Out Double Belgian Wit". Talk about a "winter warmer"! this totally unique brew is made with 2-row pale malt, white wheat malt, oats, Belgian candi sugar, coriander, orange peel, Belgian yeast and Magnum hops. The resulting beer offers up a wonderful heady aroma, pours a beautiful, cloudy-golden haze, and features a slight acidity to balance the sweetness and add more depth of flavor. Not to mention being higher in alcohol, which comes in at a whopping 8.1% ABV. Enjoy one of these beauties by our fireplace and you'll see how a really great cold beer truly can warm your soul!
IBU (international bittering units) 18
ABV 8.1%
"Blackadar American Stout"
American Style Stout
Original Release February 2020
New Release October 2022
A continental style stout with an American malt bill that pours a beautiful, dark, opaque color with a creamy tan head. Rich and full-bodied, with malty aroma and flavors, along with loads of dark chocolate and espresso, all of which is beautifully rounded out by a solid backing of Nugget, Fuggles and Styrian Celeia hops. Strikingly bold, complex yet remarkably drinkable, this outstanding brew will convince you that you definitely do not have to be afraid of the dark!

IBU 32
ABV 5.2%
'Blackadar American Stout' is named for Idaho's very own Walt Blackadar, pioneering whitewater kayaker.
About Walt Blackadar
In 1971, at the age of 49, Idahoan Walt Blackadar shocked the outdoor world by his solo run of the boiling, deadly rapids of Turnback Canyon on the Alsek River in Canada and Alaska. This doctor from Salmon Idaho ignored the warnings of the best kayakers in the world and made his remarkable run completely alone, a feat as significant in the boating world as scaling Mount Everest was in the climbing world. Western rivers were only beginning to get the interest of international kayakers when Blackadar arrived on the scene. Up till then the sport had primarily been limited to smaller rivers in the Eastern U.S. and in Europe. But after his successful 
first-descent of Turnback Canyon, Sports Illustrated Magazine published excerpts from his diary that captured the excitement and the significance of his feat. This and other exploits put him on ABC's American Sportsman and added to his growing legend. Meanwhile, Walt became one of Idaho's leading voices for preserving wilderness, and largely due to his efforts a 2.3 million-acre wilderness was established in 1973 protecting his beloved Middle Fork Country. In 1974 when Evel Knievel's plan to jump the Snake River Canyon on a rocket-powered motorcycle failed, plummeting Knievel into the river below, Blackadar's kayak got to him first and paddled the daredevil to safety. Walt's legendary life came to a climax on the South Fork of the Payette River in May of 1978, when he drowned, pinned beneath a log in the middle of a rushing rapid that claimed his life and now bears his name. "Walt Blackadar was truly alive, a man who knew how to live with determination and courage and boundless uninhibited joy," said Curt Gowdy, the host of American Sportsman. In 2007 the International Whitewater Hall of Fame inducted Walt to its honor roll. Blackadar, like the West's other folk heroes, will live on in the hearts of river runners, explorers and others curious about what's around the next bend and brave enough to run through restless waters to find out.

"When The Helles?"
(Hoping to answer the question Malan is asking about her new baby boy, who should be arriving any day now!)
Bavarian Helles-Style Lager
Released September 2020
Brewmaster Quay Marshall has created another distinctive craft-brew to add to our diverse selection here at 'The Gate', this time in the tradition and style of the great German "Helles Lagers". The original Helles-style lagers, [and by the way, 'helles' means 'bright' in German], were originally developed around Munich in the late nineteenth century by Bavarian brewers hoping to compete with the hugely popular pilsners of the day, which were coming out of Czechoslovakia. Our version is made with Mount Hood Hops, which are a northwest hop, cross-bred with the traditional German Noble Hops, therefore lending some of the same Bavarian characteristics to the brew. The result is a beautiful pale-golden, slightly-hazy beer, malt-forward, medium-bodied, mildly-herbal, slightly spicy and uniquely refreshing. A helles of a crowd-pleaser for sure!
ABV (alcohol by volume) 5.5%
IBUs (international bittering units) 12.7
"Pang Wangle Belgian Wit"
Belgian Wheat Ale
Released August 2020
As we enter the dog-days of this crazy summer of 2020, our Brewmaster Quay Marshall, has created the perfect beer for these times . . . "Pang Wangle Belgian Wit". An authentic Belgian ale yeast was used in the brew, lending this wheat beer a slight clove aroma that disappears into the many other flavors. Malted wheat, un-malted wheat and oats give this ale a great end-of-summer flavor that has a solid wheat beer taste while still finishing light and dry. Small amounts of coriander and orange peel were added at the end of the boil process to add subtle notes of complexity and refreshment. Our Pang Wangle Belgian Wit is a thirst-quenching beer that's perfect for the end of Summer and the start of Fall. And about that name...to "Pang Wangle" is an old expression that means "To live or go along cheerfully in spite of minor misfortunes". The perfect attitude and the perfect beer for these times!
ABV (alcohol by volume)4.7%
IBUs (international bittering units) 10
"Eleventh Hour IPA"
Northwest Style IPA
Released March 2020
This is our second time brewing 'Eleventh Hour IPA' and
as much as we loved the first batch, this one is even better! Brewmaster Quay Marshall carefully selected four different types of malt to ensure the strong malt backbone needed for a great IPA. Those malts are then combined with Magnum, Chinook, Cascade and Amarillo hops, resulting in our own Idaho version of a neo-classic Northwest style IPA. The payoff is a medium bodied, bold, wonderfully balanced, refreshing IPA with just a hint of citrus. All of those wonderful hop aromas and flavors are present right up front, but the overly bitter quality that so many IPAs sometimes exhibit is subdued and not at all overpowering. 'Eleventh Hour IPA' is a clean, crisp, crowd-pleasing brew, that demonstrates the art of brewing, beautifully achieved.
IBU (international bittering units) 50+
ABV (alcohol by volume) 7.2%
Hops: Magnum, Chinook, Cascade, Amarillo
Malts: White Wheat Malt, Crystal 15, Carapils, Idaho Pale Ale
'Eleventh Hour IPA' is named to honor the history of the iconic building we're in, originally built in 1922, renovated by us in 2018.
The Tradition Of The Eleventh Hour Toast
Milner's Gate is located in what is known as the 'Historic Twin Falls Elks Lodge Building', which was the original home of the Magic Valley Chapter of the "Benevolent And Protective Order Of Elks". One of the most beloved traditions of the Elks was their "Eleventh Hour Toast" which held that if any social function or meeting was still in session at 11:00 pm, the meeting was temporarily halted and a toast was offered to honor their absent members, especially those who may have passed recently or on that day in history. The Eleventh Hour Toast is still alive and well and happens every night here at 'The Gate'.
The Poem
"You have heard the tolling of eleven strokes.
This is to remind us that with Elks
the hour of eleven has a tender significance.
Wherever an Elk may roam,
Whatever his lot in life may be,
when this hour falls upon the dial of night
the great heart of Elkdom swells and throbs.
It is the golden hour of recollection,
the homecoming of those who wander,
the mystic roll call of those who will come no more.
Living or dead, an Elk is never forgotten, never forsaken.
Morning and noon may pass him by,
the light of day sink heedlessly in the West,
but ere the shadows of midnight shall fall,
the chimes of memory will be pealing forth the friendly message
"TO OUR ABSENT MEMBERS!"
"Murder Hornet Black IPA"
Stout IPA
Released June 2020
A scrumptious blend of our delicious Milner's Gate "Blackadar American Stout" combined with our very popular "Ida-Hop IPA". The result of this pairing makes for the perfect marriage between the roasty-toasty aromas and flavors, of the stout with the crisp, clean and slightly bitter notes from the IPA. The chocolate and coffee flavors of the stout are balanced by the Ida-Hop, and likewise the bitterness of the hops is mellowed by those hints of dark chocolate and espresso from the stout. This magical concoction is rich, satisfying and full-bodied, yet extremely drinkable, and has been a favorite with our beer-loving friends who want to venture safely into the dark-side.
"Home Alone Hefeweizen"
Authentic German Style Wheat Ale
Released March 2020
When it comes to ales, Germany is most famous for their wheat beers, with Hefeweizen being the most common—often poured into towering vase-like glasses, this cloudy southern German specialty is all about the yeast. Heck, it's right there in the name—'hefeweizen' translates to "yeast wheat" in German. The beer's cloudy appearance and powerful aromatics are the direct result of an unusual yeast strain that is essential to producing this classic style. Brewmaster Quay Marshall has mastered several brewing techniques, but the German style of brewing is one of his favorites, and this excellent hefeweizen is a good example of his art. It pours a beautiful pale, straw-golden color, with a lasting lacy white head. On the palate you'll get hints of banana and spicy clove, with the overall result being a delicious, very refreshing wheat-based ale. Prost!
IBU (international bittering units) 9
ABV (alcohol by volume) 4.8%
The brewing process for 'Home Alone Hefeweizen' began well before we had any idea what the coronavirus pandemic would turn into. But it's release date in late March came at the height of self-isolation and self-quarantine. So what the heck, we called it 'Home Alone Hefeweizen', because sometimes it's definitely OK to drink alone!
"Mamba Time IPL"
India Pale Lager
Released February 2020
From the mind of Quay Marshall, our very own creative, mad-scientist brewmaster, 'Mamba Time' is an American pale ale style beer, with the unique twist of using lager yeast. Also made with copious amounts of Cashmere and Cascade hops in both the boil and in the dry-hopped finish. Pleasing aromas and flavors of citrus and tropical fruit are present but the infusion of the cashmere hops balance-out the sweetness and make for a crisp, clean finish.
The name "Mamba Time" was chosen to honor the great Kobe Bryant and his incredible "Mamba Mentality". One dollar from the sale of every 'Mamba Time IPL' will be donated to a fund that has been set up to benefit the families of the victims of the helicopter crash. RIP Kobe and Gianna!
IBUs: 20
ABV: 6.1%
Calories: 201/Pint
"Dunkel Buck"
German Style Dunkel
Released January 2020
'Dunkel Buck' is a delicious 'dunkel' style beer created by brew-master Quay Marshall. Dunkel means "dark" in German, and this signature dark brew offers beer-lovers a distinctive bottom-fermented lager, characterized by balanced flavors of chocolate, bread crust and caramel, that despite the malt-forward flavor profile does not offer an overly sweet impression. Rather you'll find a great balance between the distinct character of malt and the refined touch of bitterness from the noble hops, indicative of what many beer drinkers from around the world have come to expect and love from the great tradition of German-style brewing. Cheers to 'Dunkel Buck' and to Quay for creating another crowd-pleasing beer from 'The Gate'!
IBUs (international bittering units) 16
ABV (alcohol by volume) 4.5%
Calories per pint: 155
The inspiration for the name of this beer is the classic comedy movie "Uncle Buck" starring the late, great John Candy
"Milner's Leicht"
German Style Lager
Released December 2019
'Milner's Leicht' is a light-bodied, refreshing beer made in the style of a German "leichtbier", which is essentially just a German version of the popular light American lager. To be fair to the style though, and to the German beer lovers for that matter, Milner's Leicht doesn't have nearly the reluctance to feature actual beer-ish flavors that the average American lager does, and therefore it is perhaps closer in style to a German pilsner than the vast majority of American lagers. This crisp, refreshing brew pours a very pale, bright and clear golden color, and goes down real smooth & easy all the way. And by the way, as you may have guessed, the German word 'leicht' translates to 'light' in English.
IBUs: 11
ABV: 3.6%
Calories – 106/Pint
"Fall Down Brown"
Idaho Brown Ale
Released October 2019
'Fall Down Brown' is an award-winning beer from Milner's Gate Brewmaster Quay Marshall, and was the very first beer brewed here at Milner's Gate. It is a customer favorite and one of our flagship brews for sure. 'Fall Down' combines a roasty flavor with notes of chocolate and nuttiness that create a full-flavored brown ale. While it is somewhat malt focused, there is mild hop bitterness with an earthy hop flavor. And even though Fall Down Brown may be dark in color, it is actually very easy-drinking, and it's 'sessionable' enough to 'have a few' any time of the year. 'Fall Down' pairs wonderfully with grilled meats or vegetables, and the slight char from grilling will enhance the roasted malts in the beer adding a new depth of flavor.
IBU (international bittering units) 14.5
ABV (alcohol by volume) 5.4
Calories – 164/Pint